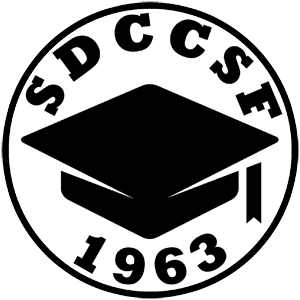 San Diego County Citizens' Scholarship Foundation grants need-based scholarships to first-year, full-time college students in San Diego County.
San Diego County Citizens' Scholarship Foundation is managed by community members who generously volunteer their time and effort to lend a hand to students from disadvantaged backgrounds. Since 1963, San Diego County Citizens' Scholarship Foundation has granted more than $2 million to help thousands of socioeconomically disadvantaged students make the important transition from high school to college. In 2016, 96% of every dollar spent by San Diego County Citizens Scholarship Foundation was given directly to students in the form of scholarships.
In 2016-17, our average scholarship recipient had $19,586 in annual family income, a family size of 4, and a 3.2 GPA.
---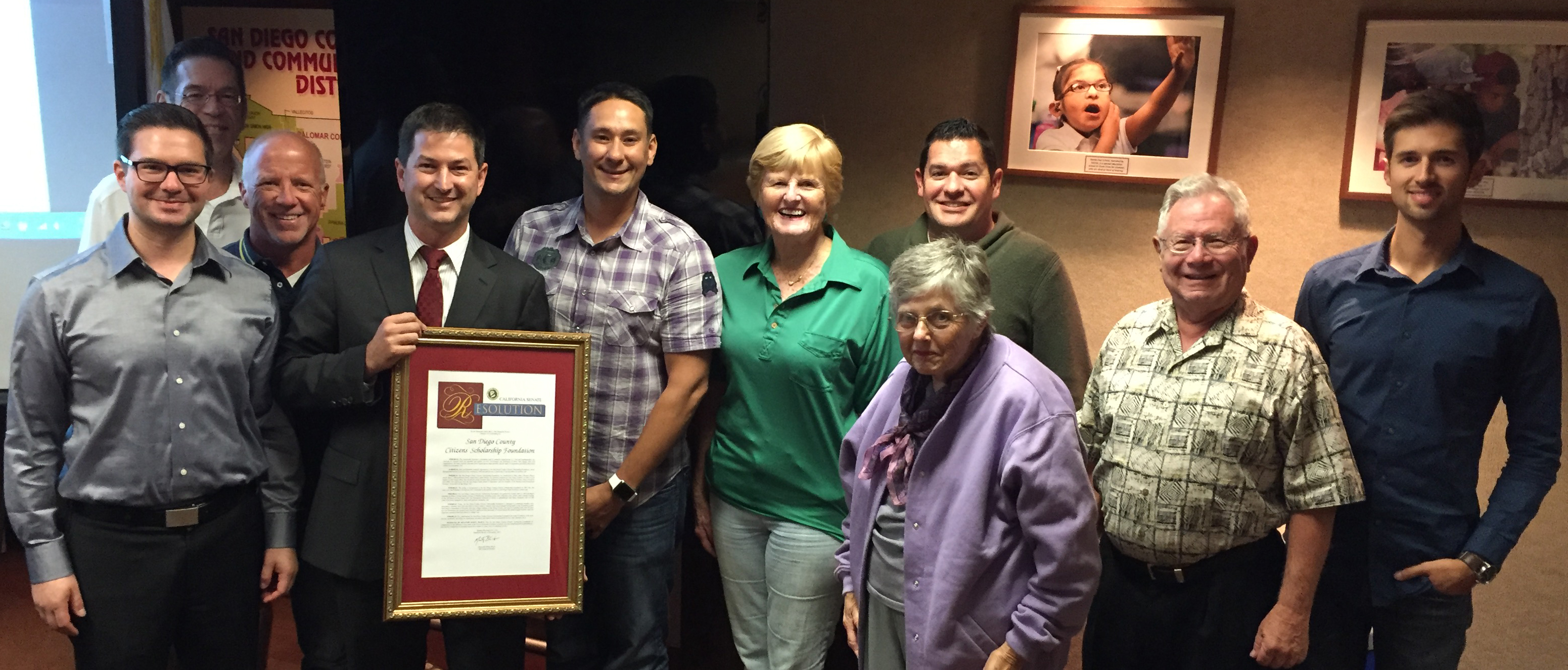 Board
President  Sammie McCormack, PhD, Educational Consultant, School Excellence Consulting
First Vice President  Mary Engles, MS, PT, Physical Therapist, Sports Arena Physical Therapy
Second Vice President  Kevin Grigorenko, Software Engineer, IBM
Treasurer  Alan Neal, MSM, Business Owner, Alan's Native American Collection
Assistant Treasurer  Gina Hooks

Recording Secretary  Rebecca Wardlow, PhD, Dean, School of Education, North Central University
Corresponding Secretary  Monica Ventura, Communications Support Assistant, SDCOE

Aron Hooks, Business Owner, self employed
Bill Hall, Library administrator, University of San Diego (retired)
Dave Shumake, Business Owner, DLSS Enterprises
Gerald Ramsey, Vice President, Student Services, Miramar College
Kurt Myers, Private Client & Investment Consultant, TDAmeritrade
Michael Rodrigues, Manager, First Republic Bank
---
History
1962 Inspiration. A Reader's Digest article about Dollars for Scholars inspires ten San Diego citizens to form a local chapter of Massachusetts based Citizens Scholarship Foundation of America. Three are professors from San Diego State University, three are executives from IBM, two are employees from San Diego County Board of Education, and two are members of the Business and Professional Womens' Association of San Diego.
1963 Incorporated. San Diego County Citizens' Scholarship Foundation is incorporated by nine founding members: Meta W. Bruce, Opal M. Di Matteo, Ferdinand S. Jung, Ruth K. Kern, John C. Mayer, Kimball Moore, Rodney E. Phillips, Glen N. Pierson, and Percy H. Steele. The relationship with Citizens' Scholarship Foundation of America is terminated.
1963 First scholarship.  The first scholarship, in the amount of twenty-five dollars, is awarded to a San Diego State University student.
1965 Granted tax-exempt status.  IRS recognizes San Diego County Citizens' Scholarship Foundation as a tax-exempt 501(c)(3) organization.
1965 Fundraising.  Many efforts are made to raise funds, such as candy sales, stationary sales, parties, and one unsuccessful event, due to poor ticket sales, a cultural evening at the University of San Diego. Fundraising efforts are refocused on philanthropic and legacy donations.
1965-1971 City proclamations.   City of San Diego Mayor awards five proclamations. 
1968-1970 County proclamations.  County of San Diego Board of Supervisors award three proclamations. 
1977 Donation.  Florence Rockwell Estate establishes a $126,000 fund to benefit San Diego County Citizens' Scholarship Foundation.
1988 Donations.  Vera Miller Estate donates $94,000. Levi Estate donates $5,000.
1993 30th anniversary.  The San Diego County Board of Education passes a special proclamation honoring the Foundation for its work. $229,000 received from Young Estate.
1995 Community scholarships.  San Diego County Citizens' Scholarship Foundation administers the Vista Irrigation District scholarship program; and the Ruth Jenkins Scholarship for the San Diego Community Foundation (predecessor of The San Diego Foundation).
2000 Donations.  Richard Nolan Estate donates $50,000 in memory of past board member Dick Nolan.
2001 Donation.  Sammie McCormack donates $21,000.
2010 Founder's legacy.  The estate of Ruth Kern establishes a $1,000,000 fund to benefit San Diego County Citizens Foundation.
2012 Donation.  Ms. Mary Lynn Hyde donates $2,500 in memory of Patricia Higgins, former University of San Diego Librarian.
2013 50th anniversary.  
2015 State recognition.  A certificate of recognition is received from the 69th Speaker of the California State Assembly, Toni G. Atkins; and a resolution is received from California State Senator Marty Block.
2016 City proclamation.  A proclamation is received from the San Diego City Council.
---
Press
---
Financial
IRS 990 2014    IRS 990 2015    IRS 990 2016
---
Contact
619-354-7974
PO Box 7484, San Diego, CA 92167