Ruth Kern (1919-2010), a founding member of San Diego County Citizens' Scholarship Foundation, generously supported the following scholarship programs.
Mesa College Foundation
San Diego County Citizens' Scholarship Foundation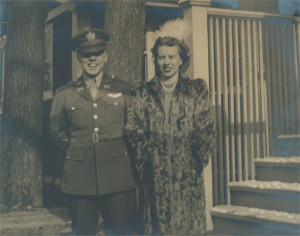 Ruth was born in Denver, Colorado. She graduated from Proviso High School in Maywood, Illinois in 1937. In 1944, her only sibling, Elmer, graduated Purdue University. One year later Elmer was killed in action in World War II.
In 1946, Ruth and her family moved from Los Angeles to San Diego, where she worked at Pacific Bell until 1979. After retirement, she owned and operated a store in College Grove Shopping Center called La Columbiana Imports. After several years, she closed the store and devoted her free time to investing, philanthropy, and fundraising for many of the charitable organizations in which she was involved. She was passionate about helping students in need, and she was especially focused on creating scholarships for students.
Ruth's Accomplishments
President of the San Diego County Citizens' Scholarship Foundation
Founder of Dollars for Scholars
President of the Mesa College Foundation
Member of the National Business and Professional Women's Club
Lifetime member of the Angels of Aseltine, supporting Aseltine School for children with special needs
First woman president of the Peninsula Chamber of Commerce, and the first woman to hold such a title of any chamber in San Diego County (1971)
Held a degree in music
Classical pianist
Soprano with the North Hollywood Methodist Church choir
Conductor of the Telco Carolers
Conductor of the Point Loma Methodist Church choir
Through Ruth's efforts and generosity, thousands of college students have received financial support. Ruth's vision continues to guide San Diego County Citizens' Scholarship Foundation today.